Many of you are your family's IT Manager. You're the help desk when something goes wrong, and you're the saviour who can fix it all.
And you're the one who ends up dealing with that 11pm phone call from your Auntie Linda on Christmas Eve saying she's staring at a blue screen with lots of funny numbers and letters.
If that's you, then you might be interested to know about our new free tool – Sophos Home.
It's Sophos's known and trusted business-grade product, but for home users.
You probably know that Sophos has been offering free Mac antivirus for a while, but this is the first product that protects both Macs and PCs in your home. If you're already a Sophos Antivirus for Mac user then you can switch to Sophos Home now!
What's really useful is that it's cloud managed, so you can look after security for your whole family, from anywhere, with an easy-to-use web console. Yes, even Auntie Linda's.
It's the first totally free home security product – free from annoying pop-ups, free from ads, free from complicated security settings. And, of course, it's free from costing anything!
If this all sounds interesting, and you're one of those people that likes to be in there first, trying out new stuff, then this is for you.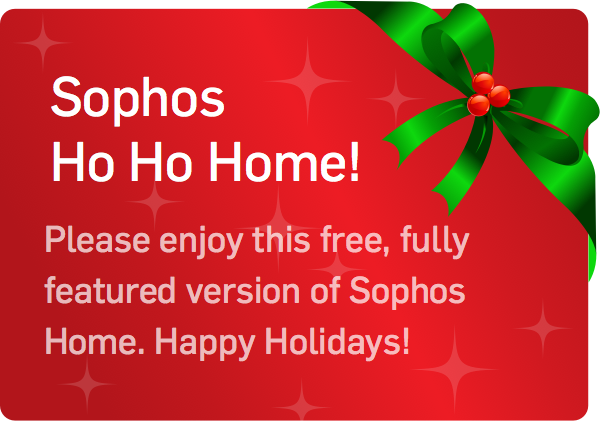 We'd also love to know what you think of it. If you fill in our feedback form after you've played around with it, we'll put you in the draw to win one of ten $20 gift cards to use on the Sophos Store – you can use it on laptop stickers, T-shirts, lunchboxes, slap bands, or many other products.
To be in with a chance of winning a gift card, please include your email address when you fill in the form. Or if you just want to let us know what you think of the product, then just leave that field blank.
Gift card giveaway closes on Friday 15 January 2016. For full competition terms and conditions, see here.