It's that time of year again!
The RSA 2016 conference starts in San Francisco in two weeks' time, and with thousands of computer security people expected in town, there are plenty of other security events alongside it.
Including the annual Security Blogger Awards.
Once again, we're delighted to announce that Naked Security is up for an award for the Best Corporate Security Blog.
You can help us win by voting for us!
This year, anyone can vote, but please vote only once to stay within the letter and the spirit of the voting process.
There's a field on the registration page that asks for the URL of your blog, podcast or column, but it is optional, so just leave it blank if you aren't a security blogger yourself.
Note that you don't have to vote in every category.
If all you want to do is to vote for us, scroll down to the bottom of the voting page, to category 10:
By the way, if you also listen to and like the Sophos Security Chet Chat podcast, please vote for us in category 8, Best Security Podcast.
We won the Best European Security Podcast in London in 2015, but we've never even made the shortlist in the US version of the competition.
So why not put in a vote for us anyway, and let the competition organisers know for next time?
Just fill in the name Sophos Security Chet Chat in the Other (please specify) field before submitting your vote!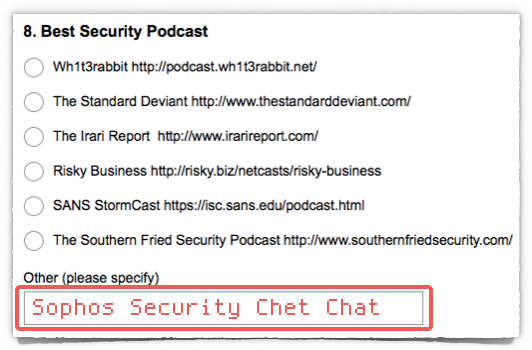 GO TO THE VOTING PAGE NOW ►
---
How to engage with Sophos and Naked Security
The success of Naked Security is really down to you, our readers, and the feedback you give us as part of the Naked Security community.
Here's how to get involved:
• Subscribe to the Naked Security daily email newsletter.
We use the email address you give us only to send your daily summary of Naked Security articles.
We don't add you to any other lists or services. You can easily unsubscribe at any time.
• Join us on our Naked Security by Sophos Facebook page.
• Follow us on Twitter, where we go by @nakedsecurity.
• Leave comments on Naked Security articles. You may remain anonymous simply by leaving the fields for name and email bank. (Note that all comments are moderated, mainly to avoid spam, so they won't show up immediately.)

• Send us tips, comments or suggested topics by emailing tips@sophos.com.
• Learn more from our wide selection of Sophos podcasts on Soundcloud.
• Join our community online at Sophos Community.
Listen to the latest Chet Chat podcast
If you haven't listened to the weekly Chet Chat podcast before, why not give it a try now?
Compared to many podcasts you may have listened to, Chet Chats are short, at about 15 minutes each.
That's because we're deliberately aiming for a lean and topical format in the vein of a tightly-edited radio show.
We've had some very positive feedback from listeners who say they like it for just the reason that it is short and focused, like this:
Image of person voting courtesy of Shutterstock.