Are you going to be in San Francisco next week, at the start of March 2016?
If so, and you aren't already planning to drop in at the Moscone Center for this year's RSA conference, why not get in for free, on us?
You can use the code XSSOPHOS16 (X-ray Sierra SOPHOS Sixteen) to register for a free expo pass, which will let you into the exhibition hall…

…where you can hear some great talks, right on the Sophos booth (N3101).
We take a slightly different approach from many vendors at trade shows: we don't juggle, ride unicycles, or use actors with scripted presentations.
We send top researchers to present on our booth, and they give regular, informative and entertaining conference-quality talks that last long enough to tell you what you need to know, but no so long that we use up time you'd rather spend enjoying the rest of the show.
Better yet, you can stay after each presentation to talk face-to-face to our researchers, so it's not like a conference session where you have to ask your questions publicly from the floor, for everyone to hear, and where you need to clear out of the room quickly to make way for the next speaker.
Talks run all day, every day, and topics include: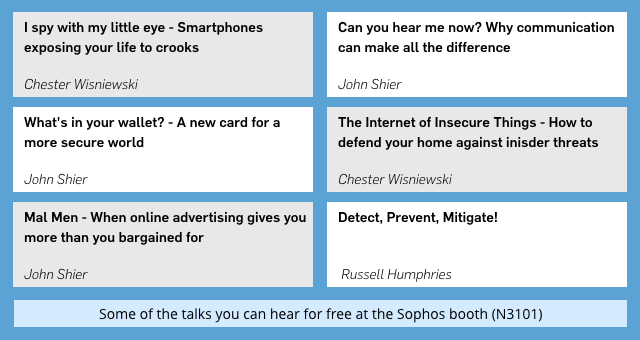 And best of all, there are free socks! (While supplies last. Be warned: they're popular.)
And these aren't just any socks, these are Ultimate Wardrobe Edition socks, as featured in the Sophos Store. (Yes, you can buy your own if you aren't going to be at RSA.)
Sign up for your free pass now!
By the way, if you're across the Atlantic in Europe and you aren't going to RSA, why not check out the free Security SOS webinars that we're running from 14-18 March 2016 for your chance to learn from our experts?