You can't say he wasn't warned.
Curt Schilling, the former Major League Baseball pitcher and ESPN analyst, was fired by his employer on Wednesday over a Facebook post mocking transgender people, less than a year after he was suspended by the sports network for anti-Muslim comments on Twitter.
The image Schilling shared mocks the ongoing controversy over a North Carolina law that could prevent transgender people from using public restrooms matching their gender identity.
The post has since been deleted from Schilling's profile, but was captured in a screenshot and published in an article on Outsports.
Although the image was originally posted by another Facebook user, Schilling shared the image to his own profile and included a comment saying "a man is a man no matter what they call themselves" and "laws that tell us differently" are "pathetic":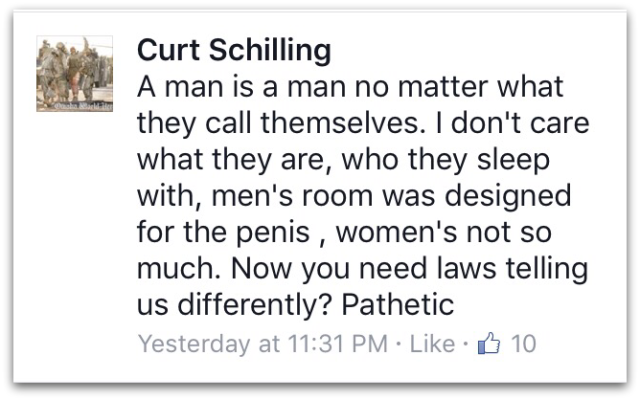 A man is a man no matter what they call themselves. I don't care what they are, who they sleep with, men's room was designed for the penis, women's not so much. Now you need laws telling us differently? Pathetic.
ESPN announced it had fired Schilling in a statement published on its website on 20 April, one day after the Outsports article appeared.
ESPN's statement said the network is "an inclusive company" and Schilling's "conduct was unacceptable":
ESPN is an inclusive company. Curt Schilling has been advised that his conduct was unacceptable and his employment with ESPN has been terminated.
Schilling's Facebook profile contains many posts expressing his views on various topics beyond sports, from religion and politics to political correctness.
His outspoken opinions can sometimes be controversial in their brashness.
Just a few weeks ago, Schilling said in an interview with Sports Illustrated that Democratic frontrunner Hillary Clinton should be "buried under a jail somewhere," due to her use of a private email server during her tenure as Secretary of State.
A devout Christian, political conservative and supporter of charities including cancer and ALS research, Schilling wrote an angry post on his personal blog on Tuesday, 19 April, the day the Outsports story appeared.
He said he didn't post the "ugly looking picture" but made a comment about "the basic functionality of men's and women's bathrooms. Period."
Schilling acknowledged his "flaws," but defended his "deeply held beliefs" and treatment of gay and transgendered people:
I'm loud, I talk too much, I think I know more than I do, those and a billion other issues I know I have. Like everyone one of you I have flaws, but I'm ok with my flaws, they're what make me, me. I thank the Lord for the life I've been given. A life interspersed and occupied by men and women who are gay, by people of all races and religions, by men and women who dress as the other, by men and women who've changed to women and men. Not one decision I've ever made about a person has anything to do with those things I just mentioned, nor will it ever.
Schilling shared the blog post on his Twitter account, blaming the controversy on those who were "dying to be offended" by his comments.
Many of his fans have come to Schilling's defense on his Facebook page, including his son Grant Schilling, who said his father may not be "the most informed about LGBT+ culture," but he has "made great strides to understand people today."
Although Schilling hasn't directly referenced the incident on Twitter or Facebook since his firing, and has declined media interview requests, he appears to be unbowed, sharing a post on Facebook challenging the United Nations on climate change.
It's unclear if Schilling's comments will hurt his prospects for future media jobs, but Schilling's social media woes show how online comments can and do cause people to lose their jobs – including those who have gone after Schilling.
Last March, Schilling's daughter was a victim of abusive comments after Schilling posted a photo of her on Twitter; Schilling fought back and "named and shamed" several of the commenters.
At least nine of the Twitter trolls were either suspended or fired from their jobs.
Image of many dislikes courtesy of Shutterstock.com.