Microsoft courted controversy last year when it pushed out an update called KB3035583, also known as the Get Windows 10 app, or GWX for short.
In theory, it was a neat idea: if you had Windows 7 or Windows 8. 1 and your computer was in a suitable state to update to Windows 10, then KB3035583 would quietly download everything needed for a Windows 10 install in the background…
…and then pop up a dialog inviting you to upgrade for free.
We've met people (admittedly only a few) who thought that this was a nice touch.
Having assumed that they'd have to pay $100 or more to upgrade, they were delighted to get the latest version at the click of a button, without needing to sit through a download, or burn a CD, or any of the usual Windows upgrade shenanigans.
But not everyone agreed, and online forums were awash with "how dare they!" instructions on how to get rid of the Get Windows 10 app to stop Microsoft's perceived impertinence.
(For users with pay-as-you-go internet plans with strict data allowances, the multigigabyte background download was understandably unwelcome.)
But with less than three months left to get a free upgrade to Windows 10 (after July 2016, you'll have to pay), Microsoft is as keen as ever to let eligible users know.
So GWX has been making regular comebacks, at least for those who haven't seen it before or turned it off yet, sometimes with humorous results:
The image above shows a screenshot from a live weather broadcast on KCCI in Des Moines, Iowa; fortunately, the forecaster took it in her stride, laconially saying:
Microsoft recommends upgrading to Windows 10. What should I do?

Don't you love it when that pops up…
Actually, there's a serious side to this story, namely that you need to be careful of popups of any sort when your screen is visible to other people.
We're willing to bet you've been at a conference or in a meeting, waiting for the presenter or the host to get their laptop connected to the projector…
…and all the while their personal IMs and email notifications are popping up on the big screen, software update warnings are making themselves known, "this software is unlicensed" messages are appearing, and so on.
That sort of thing is embarrassing at best; at worst, it's potentially harmful to you, your colleagues or even your customers, depending on what sort of data leaks out as a result.
What to do?
You, or your sysadmin if you have one, can turn off 'Get Windows 10' notifications by following Microsoft's GWX advice.
Additionally, when you're on the road or in a meeting with a Window laptop, you can enforce some control over unexpected visual surprises by using Presentation Mode. (Note: this feature is not available in all versions of Windows 7 and 8.1.)
Open a command prompt and enter the command presentationsettings.
This produces a handy dialog that lets you control what others will see while you're presenting: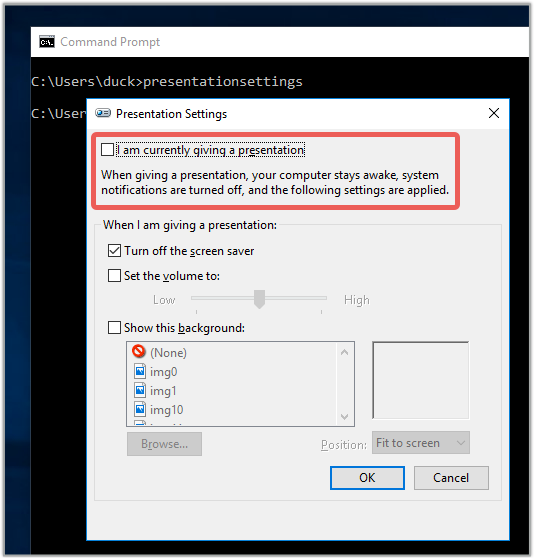 You can suppress notifications; prevent the screen saver kicking in; make sure the sound stays off; and even automatically change to your wallpaper from that personalised picture of your kids at the beach to the official company logo.
You can also use the commands presentationsettings /start and presentationsettings /stop to control Presentation Mode from a script.
When it comes to personal data, remember our advice: if in doubt, don't let it out!