The fifth annual European Security Blogger Awards took place at Infosec Europe in London last night.
We're delighted to say that we won Best European Corporate Security Blog, and and our very own Paul Ducklin was there to accept the award. (Apologies for the quality of the photo!)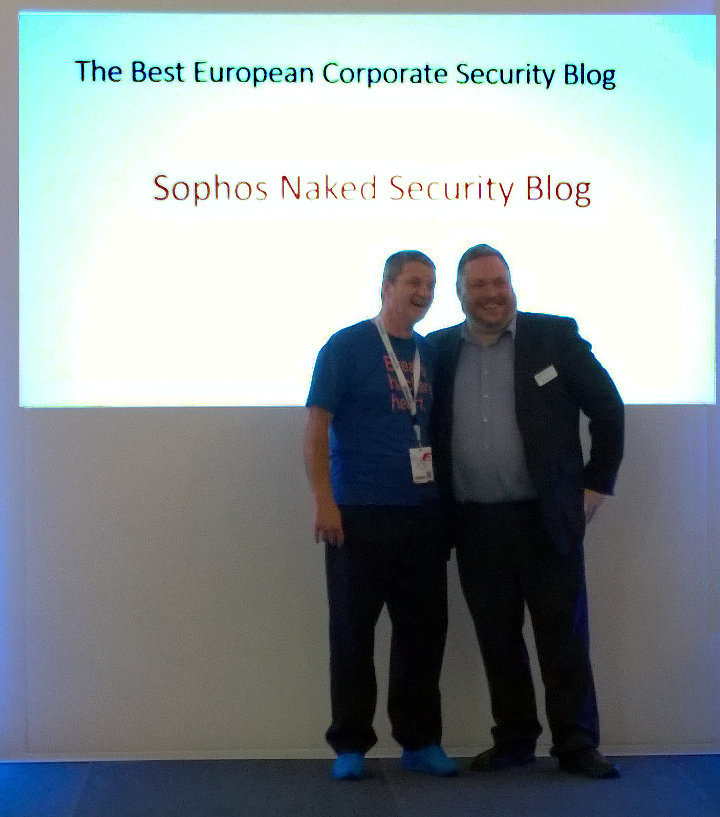 Thank you to each and every one of you who voted for us. We are so grateful.
And to those of you who take the time to comment on our site, share our stories, speak to us on social media, and take the time to listen to our talks at events, we thank you.
But we know we can always do better. From time to time, we like to ask our readers for feedback and there's no better opportunity to do it than now.
We'd love to know what ONE thing you'd like to see on Naked Security that we don't currently do. Perhaps it's something we used to have on the site that you would like to see brought back, or maybe it's a brand new suggestion you have for us.
We'll give a goody bag to four people who send us their feedback. If you would like to be entered in to win a bag, just leave your email address at the end.
You can see the full list of award winners on the Infosecurity Magazine site.
Thanks again, we really appreciate the votes!