We've all been hit up by so-called Advance Fee Fraudsters before.
Those are the guys who promise you great riches, usually with more than a whiff of corruption and illegality worked into the story, if only you will join their crooked plans…
…but if you do, then suddenly there will be snags.
No worry, however, because small amounts of money from you will do the trick: an affidavit that needs drawing up, for example; a cheque that needs clearing; a modest contract tax or stamp duty payment.
What's the harm in parting with $36.95 today when you'll be pulling down 40% of $68,500,000 in due course?
Just the start
As you can imagine, the $36.95 is just the start.
The fees keep mounting up: bank charges, lawyers' costs, bribes, you name it, you'll keep being squeezed for a whole list of advance fees.
Of course, the name Advance Fee Fraud (AFF) comes from the fact that the advance fees go straight into the crooks' pockets, and you'll never see anything in return for your money, except for more demands.
Historically, lots of this fraud has come out of Nigeria, so that you'll also hear AFF referred to as "the Nigerian scam," or as "419 fraud," apparently because that's the clause number in the relevant Nigerian legal code that covers this crime.
It's easy to assume that AFF is a side-effect of the modern age, and that it would be impractical, perhaps even impossible, without the internet.
How would you keep your victims on the hook without technology to help you?
But AFF isn't a new crime at all.
Indeed, it dates back centuries, to the 1500s or even earlier.
The early versions often took the form of confidence tricks that drew a victim into an elaborate scam involving an imaginary prisoner held on trumped-up charges in some filthy foreign jail.
In the story, the prisoner was a person of great wealth and prestige, so if you helped to pull the strings for his release, you could expect enormous rewards when he finally made it home.
What about today?
Unsurprisingly, AFF scammers have embraced technology, adopting the fax machine in the 1980s and the internet in the 1990s.
But too much technology turns some people off.
So, just like proponents of slow food, of artisan baking, and of the brilliant simplicity of fixed-gear bicycles, the AFF ecosystem still has place for old-school operators.
After all, anyone can send email, with no effort and at no cost.
But snail mail is a different story – it needs stamps that cost real money, and shows that the sender has real skin in the game – like this one: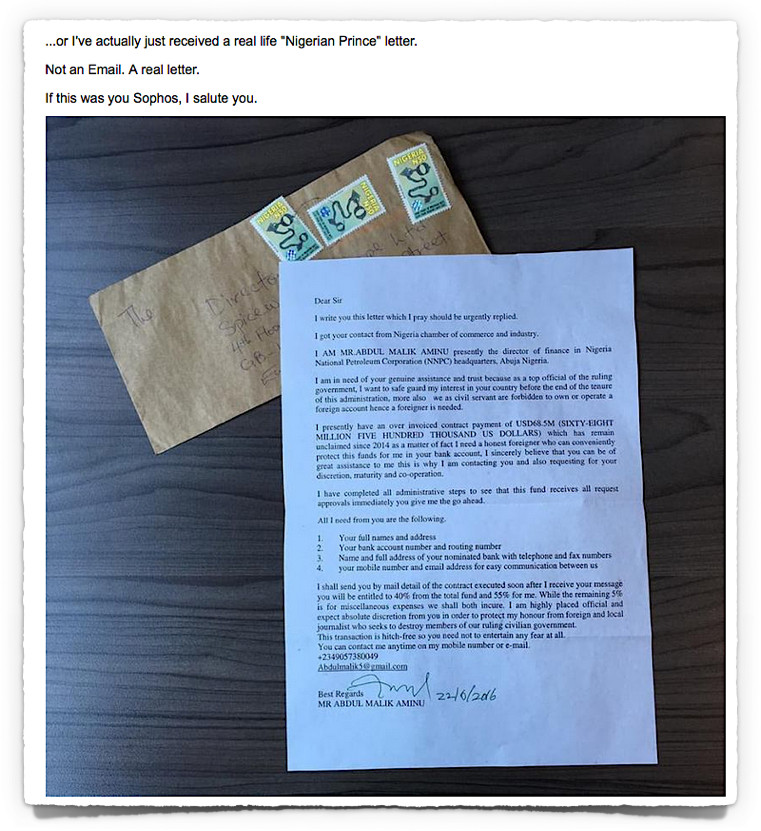 Why the Sophos reference?
The poster, Chris Mann from Spiceworks UK, is referring to a series of amusing videos we made a couple of years ago to celebrate Sysadmin day, including this one:
Why Sysadmins?
Well, they're the guys who go the extra mile when "the internet's broken" (because you fiddled with the Wi-fi password menu, but forgot to mention it), or "my phone stopped working" (although you didn't mention that it fell into Sydney Harbour and you dried it out in the oven, because no one asked).
(Try this video, too.)
But don't worry.
Sysadmins love the rest of us back!