Look, an attorney told us to post this hard-boiled egg on Facebook in order to protect our privacy, so we had to do it.
I mean, better safe than sorry, right?
Sound familiar? Oh, it should, given that those words have echoed through the Facebook ages.
Now, they're back again. Yes, that's right: it's time for the semi-annual Facebook privacy hoax to rear its chain-letter head.
Replete with convincing legalese!
Here's one – as always, there are lots of variations with slightly different wording – that we spotted.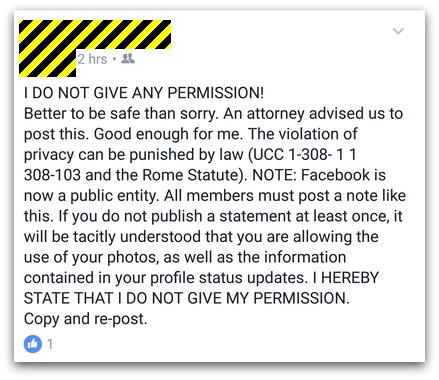 I DO NOT GIVE ANY PERMISSION!
Better to be safe than sorry. An attorney advised us to post this. Good enough for me. The violation of privacy can be punished by law (UCC 1-308- 1 1 308-103 and the Rome Statute). NOTE: Facebook is now a public entity. All members must post a note like this. If you do not publish a statement at least once, it will be tacitly understood that you are allowing the use of your photos, as well as the information contained in your profile status updates. I HEREBY STATE THAT I DO NOT GIVE MY PERMISSION.
Copy and re-post.
When we last wrote about the privacy hoax in January 2015, we asked those who might have shared the posting to please remove it immediately.
I'm quoting Naked Security's Paul Ducklin here:
If you post this sort of thing where other people can see it without also explaining why it is arrant garbage, you are:
Misleading your friends and family.
Demeaning yourself.
Teaching others that it is OK to click without thinking.
It is never acceptable to click without thinking.
End quote. It's as true now as then and even back in 2012, when Naked Security's Chester Wisniewski explained that taking control of your online identity is not as simple as making a declaration on Facebook.
That's because using any website to store content or personal details requires compliance with the site's Terms of Service.
Here's Snopes' explanation of why the law just doesn't work the way the hoax wants us to think it does:
First off, the "problem" this ineffective solution supposedly addresses is a non-existent one: Facebook isn't claiming copyright to the personal information, photographs, and other material that their users are posting to the social network, nor have they announced any plans that would make all Facebook posts public (even previously deleted ones) regardless of a user's privacy settings):
At the time of the hoax's origin in 2012, Facebook tried to quell users' fears by sending this statement to ABC News:
We have noticed some statements that suggest otherwise and we wanted to take a moment to remind you of the facts — when you post things like photos to Facebook, we do not own them.

Under our terms you grant Facebook permission to use, distribute, and share the things you post, subject to the terms and applicable privacy settings.
Please, of course, as with all hoaxes, make sure that you gently tell your friends that this one is as bogus as the idea that you have to pay Facebook £5.99 to keep your posts private,.
Remember, there are real ways to protect your privacy on Facebook. You can: