Howard A Schmidt, a security industry heavyweight who served two US presidents and was a CISO and CSO for Microsoft and eBay, died Thursday at his home in Wisconsin after a long battle with cancer. He was 67.
Friends and colleagues remember him as an industry giant who helped shape the cybersecurity profession as we know it today.
He's also remembered as a devoted family man with a passion for the outdoors and motorcycles. He is survived by his wife, four sons and eight grandchildren.
Career
Schmidt served in the US Air Force during Vietnam, then transitioned into a civil service career in that branch of the military. He spent 11 years as a Chandler, Arizona police officer, and in 1994 he went to work for the FBI's National Drug Intelligence Center, heading up the Computer Exploitation Team.
He joined Microsoft in 1997 and was its director of information security, chief information security officer (CISO) and chief security officer (CSO). During that time, he co-founded the Trustworthy Computing Security Strategies Group.
After the 9-11 attacks, President George W Bush appointed him vice chair of the President's Critical Infrastructure Protection Board and as a special adviser for cyberspace security for the White House. There, he helped create the US National Strategy to Secure CyberSpace. He became chairman in January 2003 but retired in May 2003 to join eBay as a VP and CISO.
He returned to the White House in December 2009, when President Obama appointed him Cybersecurity Coordinator and Special Assistant to the President for National Security Affairs. He retired from the White House and government service in May 2012.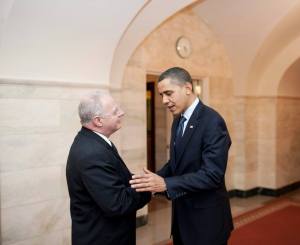 A humble giant
Though his industry contributions are significant, he remained down to earth, humble and approachable, friends and colleagues said.
Ben Rothke, principal security consultant at New York-based Nettitude Group, met him when they were at a security conference in Dubai:  
Waiting for a ride to the airport, he invited me to share a cab with him. He had a genuine interest in people. He liked to hear what others had to say, and talk about shared experiences. Howard had a lot to be arrogant about, as a man who sat with presidents and heads of state, Fortune 50 CEOs and more. But unlike many highly successful people, he was quite a humble man.
Wim Remes, CEO and principal consultant at NRJ Security, served with Schmidt on the (ISC)2 board of directors. They met at a formal dinner with industry and government leaders in 2013:
This guy walked in dressed in jeans and a Harley Davidson t-shirt – not something you'd expect at a formal dinner. But it showed me at first glance who Howard is. He challenged me as a person, intellectually and professionally, but no matter what the circumstances were, you always got the real Howard – unfiltered and 100% focused on the big picture.
Dr. Samuel Liles, acting director in the US Department of Homeland Security (DHS) Intelligence and Analysis Cyber Division, describes the time he was dispatched to fetch Schmidt for a meeting in 2011:
I was a faculty member at the National Defense University and we were hosting lots of dignitaries as cyberpolicy stuff was being worked out at an international level. I had met Howard a few times and in the middle of coordinating his visit from the White House it came to our attention that he was arriving via taxi and would have to walk (from the gate to the building). I got tapped to jump in my car and go pick him up at the gate. At that time I drove a rattle-trap, open-top, none-too-nice, covered-in-mud jeep. I picked him up up at the gate, apologized profusely for my jeep, and we chatted on the short drive in. We talked about motorcycles, jeeps, and the weather. That is how I rolled up to the front of an international delegation from Sweden with the top cyberguy in the nation. 
From the author
Howard took this photo of my family and I the night he gave us a tour of the West Wing in May 2010: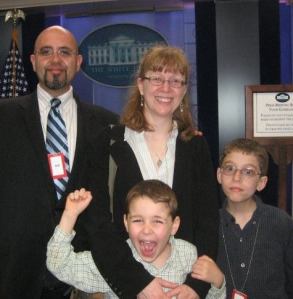 I had interviewed Howard many times over the years, and as a reporter new to cybersecurity, he was the first high-level official I had spoken to. In a gesture that floored me at the time, he gave me his cellphone number and told me to call him anytime. One night in December 2009, word began to circulate that he would be joining the Obama Administration.
I dialed his cellphone and he picked up on the first ring, almost as if he was expecting my call. He confirmed the news and, knowing I was a White House history buff, invited me and my family to Washington for a West Wing tour.
He took us through the halls of the West Wing, stopping at the Cabinet Room, Roosevelt Room and Oval Office, as well as a walk out into the Rose Garden and an extended tour of the Eisenhower Executive Office Building next door. He took our picture in the press briefing room.
That's the kind of guy Howard was – always welcoming and always giving. He gave us an experience we'll never forget.
I had dinner with him on a return trip to Washington three months later and he had a good laugh over my getting in trouble with the Secret Service police earlier in the day (details on that here). 
I'm sad to learn that he has passed on, but I'm grateful and inspired when I think of the great things he did in life. And I'm forever grateful for all he taught me about the world of cybersecurity.