Putting the tracking and product manufacturing of fruits and vegetables onto blockchain technology.
No, I don't know what that means either. But this was the sales pitch that Lithuanian cryptocoin startup Prodeum handed its investors before it exit-scammed, leaving just one thing behind: the word "penis" on its website.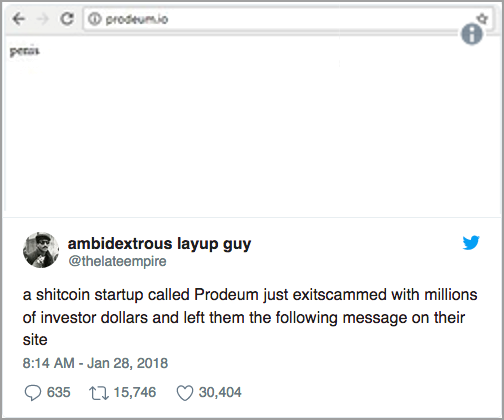 After briefly leaving that one word as a goodbye, the website reportedly switched to redirecting to an anonymous Twitter account. As of Tuesday evening, the domain linked to a Los Angeles-based registrar called Namecheap where it was recently registered.
Well, that makes sense: there's a lot of produce grown in California, and the losses incurred in this scam were not, allegedly, "millions." Rather, it sounds like they were pretty lowball.
Pretty lowball as in, $11.
According to Business Insider, that's how much Prodeum raised in an online fundraiser before it blinked out of existence on Sunday.
Three blockchain experts listed as team members or advisors on Prodeum's TokenDesk fundraising page – Darius Rugevicius, Vytautas Kaseta, and Mario Pazos – told BI that they're victims of identity theft and have nothing to do with Prodeum, which was on the Ethereum blockchain.
Before it went away on Sunday, Prodeum tried an unregulated fundraising technique with a dodgy reputation called an initial coin offering (ICO). ICOs are used by blockchain companies where cyptocurrencies like Bitcoin and Ethereum are used to purchase "tokens" from a startup: if the company takes off, they'll theoretically be worth something.
Somebody claiming to be the scammer behind Prodeum posted about making $3,000 with the produce scam and $50,000 total with two other ICOs, Bitflur and Magnalis.
The writer asked for forgiveness but advised readers that "all ICOs are scams."
Well, thanks a lot for the advice, you lousy fruit and vegetable crook! You took the money and left us with nothing but an eggplant.