What do bots talk about on their bots-only internet?
Do they debate whether Mark Zuckerberg is in fact a robot or A CARBON-BASED LIFEFORM INGESTING CORROSIVE ISOPODS OF TRILOBITE NOURISHMENT and apologize for PROMINENT FULL-CAPITAL YELLING CAUSING DISCOMFORT TO YOUR AUDITORY RECEIVERS EARS, PROVIDING amusement.value=256 in a MOST AMUSING SUBROUTINE JOKE?
(If you like robot humor like that, please do visit r/totallynotrobots and observe a fellow human having a human experience.)
Anyway, beats me, what robots talk about on robot internet. I'm a human. And I have verified my humanness thanks to an "online performance" called Humans Not Invited, brought to us courtesy of online programmer artist Damjanski. His real name, according to Motherboard, is Danjan Pita.
The online performance is in fact a Completely Automated Procedure for Telling Computers and Humans Apart (CAPTCHA). They look similar to Google's reCAPTCHAs, in that you're presented with a vision test that asks you to select a collection of images based on question: select all squares with spinners, say, or select all squares with traffic lights.
But the images in the Humans Not Invited test aren't made for human eyes. Rather, they're full of images that are blurred beyond recognition. At least, they're blurred beyond most human recognition: some Reddit users said they guessed correctly, though nobody at Motherboard did. Nor could I, and I tried several times.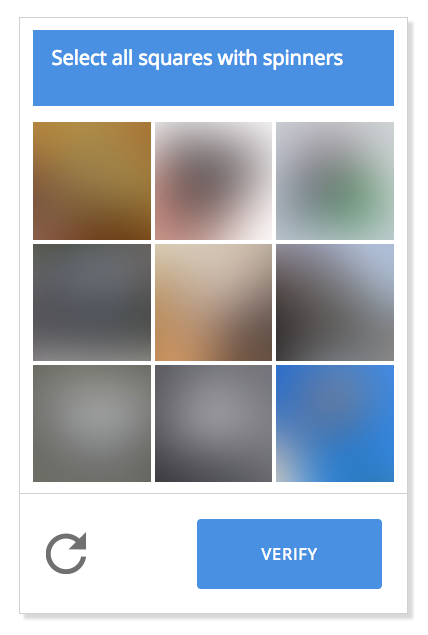 Damjanski told Motherboard in an email that bots (software robots) can pick out the right images, which are real images that have been blurred with an algorithm:
So for example when the captcha asks you to select each square with an Ewok – there are some blurred Ewoks in that captcha. We also have a program changing always the image titles so people can't trick it by checking the names of the image files.
Damjanski posted the site on Hacker News last week.
The point of CAPTCHA challenges is to act as a gate that lets humans through but stops or slows down bots. Unfortunately the bots keep finding the key to the lock. There are three kinds of CAPTCHA, and they've all been automatically kicked over by researchers: image challenges, audio challenges and text challenges.
CAPTCHA challenges aren't the be-all and end-all: rather, they act as a stumbling block, to slow down bots as much as possible.
But not this one! Damjanski's goal is to stop humans, and this is the message you'll get unless you're lucky or you have algorithms in your eyeballs:

Damjanski told Motherboard that since posting the test last week, people have created bots to beat it. He said that he and two friends have been re-evaluating and toughening the challenge:
We constantly update the algorithm on different variables like for example how many pictures it serves or in another case how it blurs the images.
Once your bot is in, it's honored by having its IP address added to a published list. Damjanski says more than 30 bots had made it into the "locked robot room" as of Wednesday, where they were greeted with the words, "Welcome! You are not a human."
Damjanski says there's no end date: he's just going to keep updating the algorithm as people find ever more creative ways to beat it.
I kinda enjoy seeing what people's reactions are going to be.