Google's security team recently announced that Chrome is expanding its "Safe Browsing" capabilities to help protect MacOS users from Mac-specific threats and malware.
Any Mac user that stumbles upon a website that might host a compromised or malicious ad, attempt to download Mac-specific malicious software, or try to modify browser settings (like changing the default search engine or default home page) will see a message warning them about the website's dangers: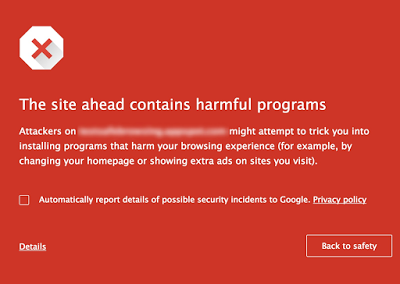 If you're a Chrome user on Windows and this all sounds familiar, it should: These protections are in place for you already. Google says that Mac users of Chrome will start seeing these added protections from 31 March.
And yes, while the majority of malware still does not affect Macs, it's irresponsible to think Macs can't or won't ever be affected by malicious software. Just last year, SophosLabs included Mac malware in their yearly malware forecast after seeing numerous Mac ransomware samples in the wild. Mac malware is growing, so it's a good thing that Google is being proactive in helping to protect its Mac users.
Google's Safe Browsing works within Google mobile and desktop products like Chrome to give its users a heads up that they may be accessing a site that hosts malware, could try to install unwanted software, or even attempt a social engineering attack (like phishing).
This is one prong of attack that Google has been taking to stop fraudulent extensions, sites, and ads from causing damage to users regardless of their device type. Google has also recently doubled-down on rooting out malicious apps that made it past security checks into the Google Play store, often by copycatting legitimate applications.