STOP.
Don't click that link. Don't fork over Amazon gift cards. Don't send $5 or $1 or anything at all to anybody's PayPal account. Don't jump on any offer for a free invite to Fortnite mobile from somebody who says they've got invites to spare.
They're all lying.
On Monday, there was a confusing storm of fake offers to get in on the release of the hot, hot, hot mobile game. There was confusion about what was official and what was smoke, and there wasn't much communication from game maker Epic Games to clarify the mess, with the exception of a comment by a mod on the official Fortnite subreddit that stated that they were accepting signups only and that the servers weren't even live yet.
Now, there is official word on the mess, and the word is that all these invite offers are from windbag fraudsters looking for profit or for a pumped-up Twitter following/likes/retweets/comments. On Tuesday morning, Fortnite said that it hadn't yet sent out any invites, and it warned gamers from clicking on anything but official links:
We have not sent out any mobile invites yet.

Please be aware of false mobile download links. Our official URLs are https://t.co/2e5rxQV3Uo and https://t.co/aYRtzUpFpO. https://t.co/XzyfhrO2w8

— Fortnite (@FortniteGame) March 13, 2018
You can, however, sign up for an email invitation for the iOS version. The Android version is going to roll out in the next few months, Epic says, but you can still sign up at that site to get notification of when it will be available.
As Bleeping Computer reported on Monday, soon after the Fortnite mobile iOS signups page launched, Twitter and Facebook were flooded with posts from people who claimed to have already received invites and who promised to give or sell them for a follow, retweet, PayPal payments, or PlayStation Network (PSN) and Amazon gift certificates.
Some liars claimed to have as many as 10,000 invites.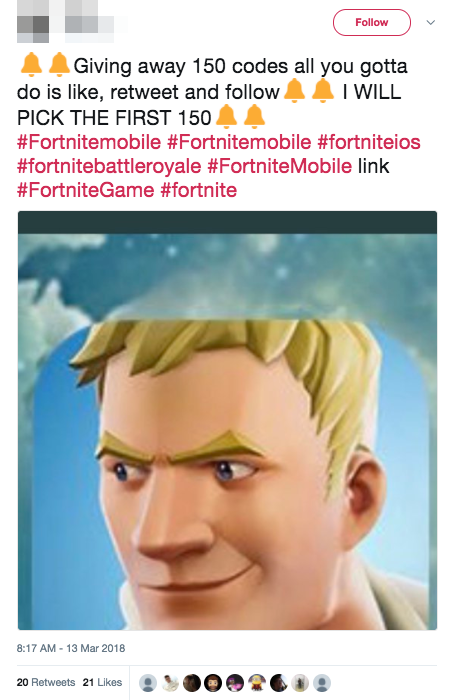 So when will the invites go out? Epic Creative Director Donald Mustard told Forbes that the initial codes will be sent later this week.
In the meantime, bear in mind that Fortnite prohibits begging for codes. Offering codes or invites is just playing on the widespread anticipation for this, what's been described as "The Most Important Mobile Game Ever."
Oh, the anticipation. It makes us all the easier to exploit. Don't fall for the come-ons!
 Image courtesy of Epic Games / Facebook