What's Facebook for?
Thanks to Cambridge Analytica, it's a question on a lot of people's minds right now, minds that have fingers hovering tentatively over "delete" buttons.
It's been bugging me since the middle of the last decade, when everyone was suddenly very excited about a new website that gobbled up your entire life and shared it with your just your friends.
It seemed like a terrible idea.
The proposition was this: everything would be fine… so long as your friends never did anything stupid with your data and you never fell out with any of them, so long as Facebook never shared your data with anyone, never changed its mind about what it wanted to do with your data, was never hacked, never got into financial trouble and was never purchased by another company.
I couldn't wait to not open an account so I rushed out and didn't (didn't fail to not open one, that is).
Mercifully, after people joined Facebook they stopped talking about it so much (or anything else… too busy… sorry… what did you say? Sorry, I'm checking Facebook).
Still, they did seem to be mostly having a nice time making their lives appear more enriching than they actually were while worrying about how just much more enriching everyone else's life looked.
When that wasn't exciting enough they harvested wheat, read made up news stories or handed over wads of personal data in the name of discovering which Disney princess they were.
Mark Zuckerberg even helped his users to stave off platform fatigue by periodically turning off everyone's privacy settings without asking.
As the membership grew it became clear that Facebook was an amazing platform for collaborating on, and sharing and spreading ideas. But some of the those ideas were really, truly, bafflingly bad.
Facebook then, is the world's biggest petri dish for culturing hair-brained hoaxes.
Proving that the so-called wisdom of crowds has its limits, here are three Facebook hoaxes that are dumb with a capital "um?"
Talking Rubbish
Talking Angela is the eponymous feline star of her own smartphone app.
To your kids, she's a cat with a big face that sits very still and asks a fairly limited range of questions.
To the guardians of Facebook she's a vile temptress whose dark secret is hiding in plain sight. Literally in her sight, that is…

Did you see it?
In her eyes?
Google Play reviewer Yianni Vasilounis can help if you didn't: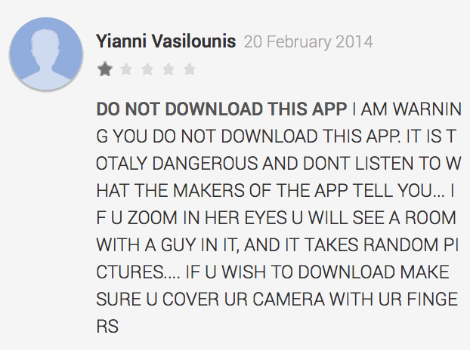 DO NOT DOWNLOAD THIS APP I AM WARNING YOU DO NOT DOWNLOAD THIS APP. IT IS TOTALY DANGEROUS AND DONT LISTEN TO WHAT THE MAKERS OF THE APP TELL YOU... IF U ZOOM IN HER EYES U WILL SEE A ROOM WITH A GUY IN IT, AND IT TAKES RANDOM PICTURES.... IF U WISH TO DOWNLOAD MAKE SURE U COVER UR CAMERA WITH UR FINGERS
They say the eyes are the window to the soul but in Talking Angela's case they're just a window – one that's got a tiny weeny man behind them (all of them that is, on every copy of the app), taking your picture.
Had the man snuck Tron-like into the very bits and bytes of the Talking Angela app and replicated himself across every copy of it? Were there millions of separate tiny people? There were no answers, just lots of FURIOUS, SPITTLE-FLECKED CAPITAL LETTERS.
Put down the Giraffe, it's loaded
We've all had it: that urge you get when you're just sitting at work or at home with the laptop open, when there's nobody else there – the itch that can only be scratched by changing your Facebook profile picture to a giraffe.
Am i right?
No, of course not.
Which is why it's truly bizarre that the warning "don't change your profile picture to a giraffe" ever gained any traction. But traction it got, somehow. Thanks Facebook.
The tortured logic ran something like this:
Facebook users are challenging friends to solve a riddle. Losers have to display their failure to solve the riddle by changing their profile picture to a giraffe.
Crooks have milked this by flooding the internet with pictures of giraffes that are poisoned with malware.
If you accidentally choose one of these pictures the you set off the crooks' booby trap and lose your username and password.
Who knows how many pictures of these majestic animals we were all deprived of seeing on the vast savannah of Facebook profile pics.
Facebook ends 15 March
The Cambridge Analytica crisis has Zuckerberg reeling, with some calling it the beginning of the end for Facebook.
Sorry folks, you're seven years too late – Facebook's ending on 15 March 2011, don't ya know.
Long ago, before the terms "fake" and "news" had formed their all-conquering super group and were still enjoying their modest solo careers, an online news outlet called Weekly World News proclaimed the end of The Social Network.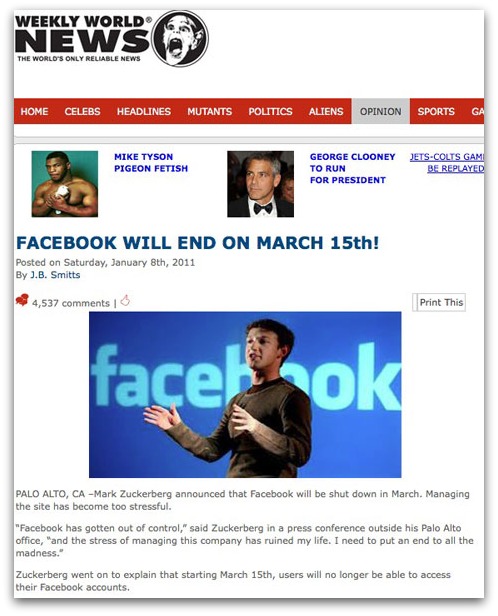 Like all good hoaxes, it came with a made up quote from Somebody Important:
After March 15th the whole website shuts down," said Avrat Humarthi, Vice President of Technical Affairs at Facebook. "So if you ever want to see your pictures again, I recommend you take them off the internet. You won't be able to get them back once Facebook goes out of business.
They were, sadly, quite wrong.
The story was snuggled up next to a big fat clue that it was probably not true: the slightly less devastating news that 2011 would also see aliens attacking the Earth.