A former acid house rave kingpin has been sentenced to 20 months for using a bizarre home-built machine to pilfer £500,000 (USD $630,350) from banking customers.
Southwark Crown Court charged 53-year-old Tony Muldowney-Colston in October after an investigation that began in January. He pleaded guilty to nine counts of possessing an article for use in fraud, and two counts of making or supplying an article for use in fraud, and was sentenced last week.
Muldowney-Colston had created a machine that enabled him to fool customers into thinking that he was their banking provider, said the Metropolitan Police. He used the device to gain access to £500,000 in customer accounts in a crime spree that police officials said affected hundreds of people across the UK.
Police pictures of the unit show something looking like a prop from a William Gibson novel, with a Barclays card reader perched among various electronic equipment. MSN said that the machine enabled him to change the apparent age and gender of his voice, and could also play pre-recorded bank messages.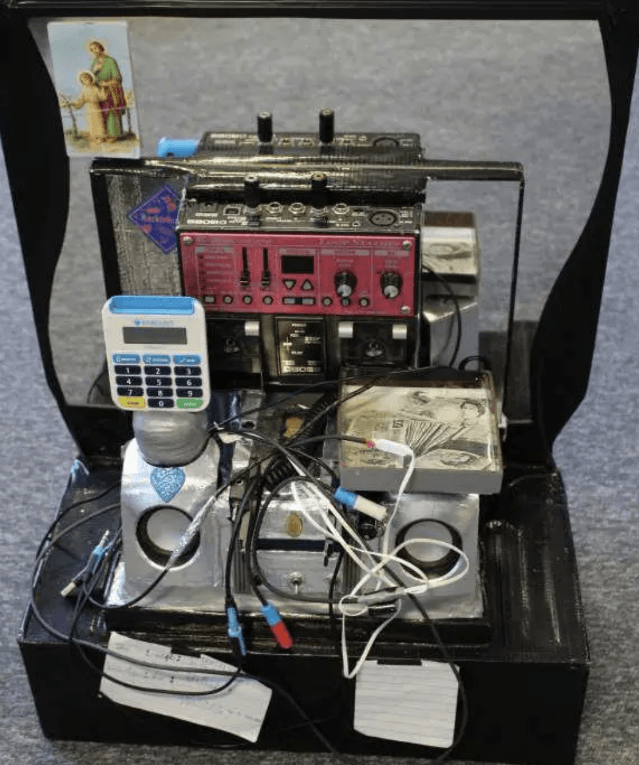 Police arrested him in June. Upon searching his address, they found details of passports, identity cards, and 32 credit cards. They also found a spreadsheet containing names, addresses, email addresses and phone numbers belonging to members of a London-based private club.
Muldowney-Colston, who also used the pseudonym Tony Colston-Hayter, has a colourful past. The son of a university lecturer and a solicitor, he reportedly passed an exam in fruit machine technology aged 16 and started several video game companies when he was 18, turning over £1m from one before it went bankrupt. He was a successful professional gambler, reportedly once earning £23,000 ($29,000) in a single day.
"Mr Big"
After cashing out at the casinos, he made his way to Shoom, a nightclub that pioneered the acid house movement in the late eighties. This inspired him to set up his own company organising raves in the countryside surrounding London, and he gained infamy as acid house's "Mr Big". He once protested government anti-rave policies by shackling himself to Jonathan Ross on live TV.
It was during this period that he first used phone systems to fool the authorities. He would use BT's VoiceBank voice mailbox system to leave a series of rendezvous locations for his parties, creating a treasure hunt for ravers.
He later became a successful businessman, reportedly moving to Hong Kong in 2003 and setting up an engineering company that created components for Formula One cars. However, he took up a life of crime after returning to the UK and ran up considerable debts as the result of drug addiction.
Muldowney-Colston's drug addiction and debt formed the basis for his defence in another crime, four years ago. He was released on licence for his part in a high-tech 2014 bank heist that earned him a five-and-a-half-year sentence. His gang connected keyboard video mouse (KVM) kits to banking computers so that members could control them remotely. He and his gang stole customer credit card details and pilfered £1.25m (around $1.5m) from targets including Barclays.
Images courtesy of Met Police.