Fans of high-profile YouTubers are getting bombarded with scams made to look like the messages were sent by the video stars themselves, the BBC reports.
US YouTube personality Philip DeFranco addressed the issue in a video posted to his channel on Wednesday.
If you've gotten a message from me, or any other creator on YouTube, that looks something like this…
…he said, posting a sample of one of the scams, which thanked his fans for commenting on his videos and told them that he's selecting…
…random subscriber from my subscriber list for gift and you have just won it!
DeFranco continued, putting up visuals of similar messages about "susprise gift" that have appeared on subscriber lists for YouTubers James Charles, Lewis Hilsenteger from Unbox Therapy Giveaway, jeffrestar, and Bhad Bhabie, among what the BBC says were many others.
Each of the messages contained a link.
DeFranco said most people would recognize that it was an "obvious scam." Neither he nor the other creators the messages claim to come from had in fact sent the messages, he said.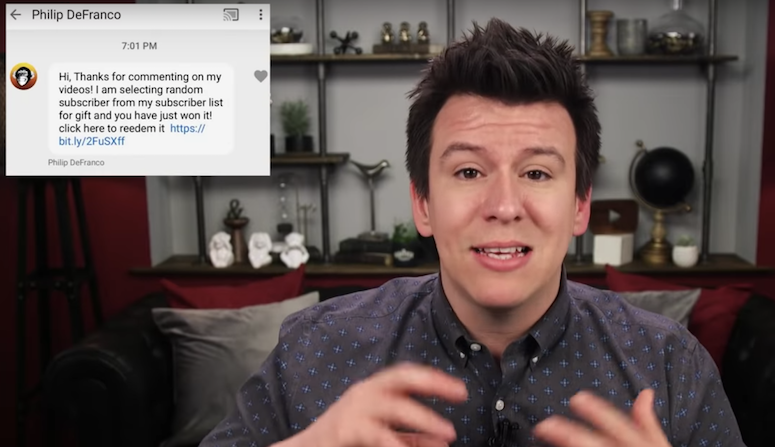 Following DeFranco's video warning about the issue, YouTube responded, thanking DeFranco by Tweet and saying that the company is working on a solution.
Thanks for reporting on this spam issue! We're in the process of implementing additional measures to prevent impersonation like this. In the meantime, your subs can protect themselves by blocking any account that is spamming them: https://t.co/uieSAi4k7Z

— TeamYouTube #StayHome (@TeamYouTube) January 23, 2019
While it figures out how to stamp out scammers who impersonate celebs, @TeamYouTube said that subscribers can protect themselves by blocking any accounts that are spamming them.
The latest spin on salvation-via-skincare
There's nothing new about social media-delivered, fake-celebrity-encrusted flimflam. In fact, Facebook last week got lawsuited into creating a scam ads reporting tool, and donating £3m to a consumer advocate group, by UK financial celeb Martin Lewis.
Lewis's name and face had been slathered on all sorts of financial scams that he'd never endorse. He wound up dropping the lawsuit he brought against Facebook over the frauds: to Facebook's credit, it responded without a court order.
Back in 2017, it was all about skincare. We were being assured that former First Daughter Chelsea Clinton had become the richest Clinton, all because of her skincare line (nope). Star Pauley Perrette purportedly left the crime show "NCIS" to pursue a skin care line (no, she did not). Princess Kate Middleton planned to take a break from the royal family to campaign for – what else? – her "breakthrough" skincare line (a royal "nosiree" to that).
Skin, skin, skin, skin, skin: you'd think that the A-list stars could have slid their way around town like eels with all the gloop purportedly being glopped on by Jennifer Aniston, Angelina Jolie, Kim Kardashian, Melania Trump, Christine Brinkley, and Mark Zuckerberg's wife Priscilla Chan, not to mention all the non-celebrities who say they never used this stuff and never wrote the endorsements credited to them.
It's like playing whack-a-mole
The problem with skinning these skincare weasels and/or their "Susprise gift" kin is that they breed like bunnies. The Federal Trade Commission (FTC) tried to crack down on the skincare fraudsters in 2015, getting a court to issue a temporary restraining order against a total of seven individuals and 15 companies that were selling Auravie, Dellure, LéOR Skincare, and Miracle Face Kit branded products by tricking consumers into providing their payment card information, instead charging them for the full price of the product, and then surreptitiously enrolling them in a monthly program that charged them about $85 per month.
At the time of the skintastic scams, our advice is to not blindly trust a company with your credit card details –  if in doubt, don't give it out. Consider using a prepaid credit card if they're permitted in your country (and lo and behold, the fake skincare sellers refused to accept them) so that the cash on your card is capped. Keep your eye on your statements or sign up for automated transaction reports, for example, via SMS, and dispute any fraudulent transactions as soon as you can.
With regards to that link in the fake gift giveaways from YouTube stars, nobody should go clicking on it, not even if it utilizes sonic vibration massage to refresh and restore a youthful look to the skin.