UK TV celebrity Martin Lewis was all smiles this week after a five-month alliance with Facebook to crack down on scam ads finally bore fruit.
The company has coughed up £3m (around US $3.7m) to help support anti-scam services as well as introducing a tool to report scam ads on the UK version of the site.
Lewis, a TV presenter and journalist who advises people on financial issues, sued Facebook in April 2018 after scammers used his name in fake ads on the platform to con people out of their money. He settled with the company in January 2019, recouping his legal fees and persuading it to donate £3m to Citizens Advice and create a new scam ad reporting tool.
Facebook made good on that promise this week.
The whole facebook lawsuit's been an emotional rollercoaster. I'm glad it's over. Many've asked to see the full @GMB interview where I explain best why I did what and what it felt like. I hope you'll forgive the welling up at the end. Martinhttps://t.co/TyGkQfpQCe pic.twitter.com/vYSQczS8Y0

— Martin Lewis (@MartinSLewis) January 25, 2019
One man lost £19,000 ($23,500), he recalled. A woman who was looking after her orphaned grandchildren put the money that was set aside for them into one of these fake schemes and lost everything. They all blamed him, even though he had nothing to do with the ads.
This week Facebook launched a button on its UK site to report scam ads. This lets users click the three dots '. . .' on the top right of an ad and then select the 'Report Ad' function, followed by 'Misleading or scam ad'. Then, they have to confirm that they want to send a detailed scam report. Hopefully, if successful, this will roll out to other markets.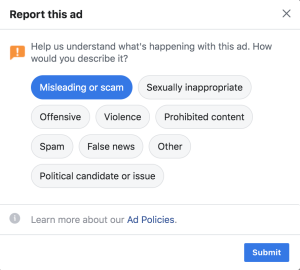 The £3m went to a new Citizens Advice service called Citizens Advice Scam Action (CASA), of which Lewis says:
Its job is to fight scams, prevent them, and give one-on-one help to victims. 
This is an unquestionable win for Lewis, who had his name hijacked and reputation damaged and took on a multinational corporation to try and make things right. He spent $100,000 facing the social media giant down in court and turned the whole thing into something positive that will help consumers. More power to him.
Move slowly and fix things
Before applauding Facebook, though, we should take its contribution in context. Adding a scam ad reporting button in 2019 is a step, but a reactive one, and it took a lawsuit by a celebrity to make it do even that. 
In the meantime, a lot of unsavory people have been making money by committing fraud on its platform.
The FBI Internet Crime Complaint Center's (IC3) 2018 Internet Crime report said that losses from crimes committed via social media totalled $101,045,973 in 2018, hitting 40,198 victims. That's just in the US, mind. That amounts to a $2513 loss per victim on average. Not all those scams involve fake ads, and not all have been committed via Facebook, of course, but Statcounter says it has a 63.3% share of the North American social media market as of June 2019, and a 59.6% share in the UK.
If you suspect a scam
Before buying anything via a Facebook ad, ask yourself some questions:
Can I pay through a traceable method, eg PayPal? Some payment providers offer recourse if you've been scammed. 
Does a quick internet search of the company, contact details or product highlight anything concerning? Are there lots of bad reviews? Are you able to find their main website and contact details?
Is this too good to be true?
And if you're in the UK, you can now report the scam with a click of a button, but even in other countries, there are organizations you can contact for advice. If you're in the US, you can report a rip-off or Facebook scam ad via the FTC's Complaints Assistant.