Introduction
With vulnerabilities affecting Oracle's Java plugin, users frequently ask how to disable or remove Java from their Windows computers. Many users require Java for specific applications, therefore we are providing both removal instructions as well as the ability to disable Java.
For users who primarily surf using Chrome it is handy to disable Java, but allow it to work in another browser for the rare application that requires Java.
Java 7 update 10 introduced a useful security control that allowed the web browser plugin to be disabled entirely. However, if you're using an earlier version you can use the following instructions.
Windows removal instructions

Windows 7 and Vista users can go to Control Panel -> Programs. Older versions of Windows will be under Control Panel -> Add/Remove Programs.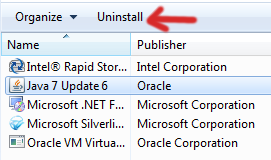 Find Java in the Program list, highlight it and choose Uninstall. Windows will prompt you to confirm. Say yes.
You can confirm that Java is no longer installed by visiting http://java.com. Click "Do I have Java?" Click verify and confirm that it says "No working Java was detected on your system."

Chrome disable instructions
Open Chrome and type chrome://plugins into the location bar.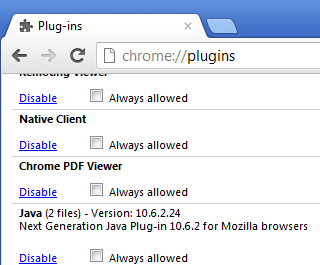 Click Disable underneath the Java plugin.
Want to disable Java in other browsers?
Here are our instructions for disabling Java in other internet web browsers: